---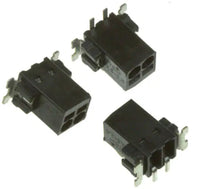 42 Phoenix Contact PCB Terminal block 1771091. SMT push-in terminal connectors. Individual wires can be pushed in, making connections easy. Wires can be released using a small screwdriver. 
These are not necessary to complete the expansion PCBs. Individual wires can be soldered directly to the pads, or through-hole connectors can be used, although the additional thickness may prevent proper installation of pot and switch bushing nuts. 
Mouser part #651-1771091 DigiKey part # 277-2072-1-ND
flundrtōn is reselling these items to save on your shipping costs.